3 ADM
10 Axis Three Spindle CNC Drill Line
AKYAPAK, as a leader of its sector, shows its technology in steel construction drilling lines and moves it from Turkey to the World. AKYAPAK, created AKDRILL brand in this sector, manufactures CNC drilling machine series with servo motor driven in the name of ADM for steel construction masts.
AKDRILL ADM Drilling Machines provide high quality solutions in manufacturing of steel construction, bridge construction, shipyards and various fields of construction sector. ADM series have the drilling capacity of H, I, and U profiles or angles with 10-40 mm standart diameters or more.
ADM Drilling Lines consist of one, two or three independent spindles. 1 ADM model which has one spindle, has the capacity of drilling the profile from three sides with right angle and by rotating +90/-90 degree. 3ADM model, which has three spindles, has the capacity of drilling the profile from three sides independently, marking and tool changing at the same time. Resetting the equipment to zero and setting to the next drilling position are performed automatically by CNC.
ADM Drilling Lines, manufacuring with first class equipments as Mitsubishi and Siemens, become prominent with quality and reliability with Akyapak's strong after sales support, as well.
Control Panel: Mitsubishi
Drilling Unit- Vertical: 1 Vertical
Drilling Unit- Horizontal: 2 Horizontal
Drilling diameter: 10-40 mm
Spindle Speed-Infinitely: Infinitivel 50-3000 d/min.
Drive Power Per Axis: 22 kW / 140 Nm
Spindle torque: 280 Nm
Movement Transmission System: Preloaded ball screws / nut system
Automatic Tool Changing Unit: For each spindle one ATC with 4 tools
Infeed Table with CNC Carriage: Standard 12 m material
Exit Table with Motorized Rolls: Standard 12 m material
Central Lubrication for Linear Guides: Standard
Tool Cooling System: MQL
Weight of Linear Meter: 600 kg/m
Tapping Tool for all three axess (Optional): M10 – M24 (with special set)
Beam Width max-min with support from down:
Beam Height max-min: 500 / 80 mm
Spindle Head Tool Shaftshole: BT 40 (with cooling liguid long hole)
Workpiece movement: Servomotor + planetery gear box
Automatic Cross-Section Measuring: Standard
Miter Band Saw Machine Integration: Optional
Weight: 11000 kg
Dimensions of the Machine: 2300 x 5400 x 3050 mm
D.O.T. Marking: Optional
Scribing Tool: On one side
Chip Conveyor: Standard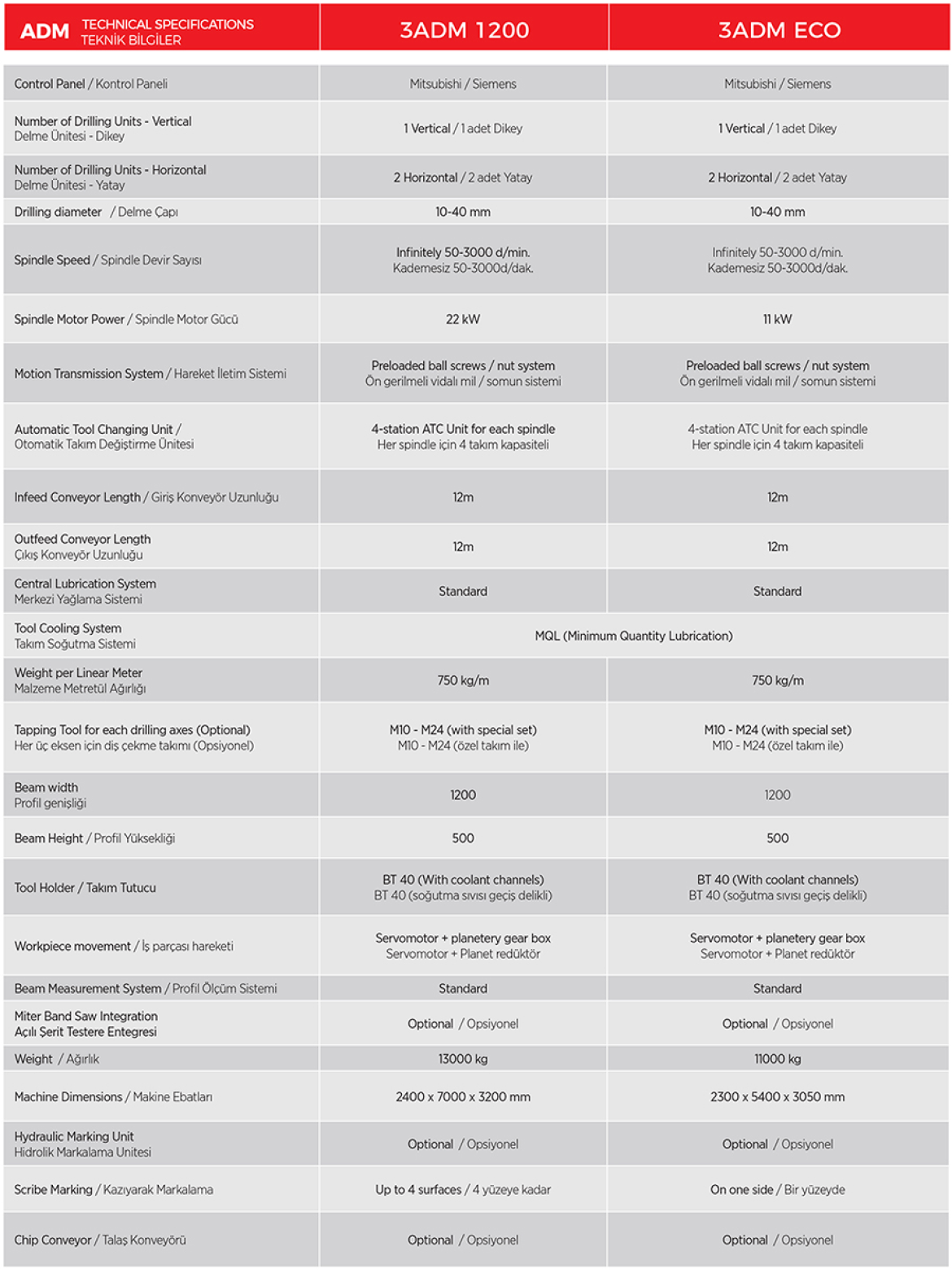 Request Detail
Information
Please fill out the requested information and you will be contacted soon.
Fill out the form to get a free consultation.