AHK
3-Roll Plate Rolling Machines
The Torque Without Power Loss
In AHK 3-Roll Plate Rolling Machines, all 3 rolls are independently-driven by hydraulic motor and reducer in the models with a top roll diameter of 230 mm and larger, and in the models with a roll diameter of smaller than 230 mm, the side rolls are driven by hydraulic motor, reducer + gear and the top roll is driven by means of chain gear.
AHK meets your needs in a wide range from 2 mm to 200 mm in plate thickness and 500 mm to 12000 mm in width
Akyapak AHK 3-roll plate rolls allow pre-bending on both sides of the machine without removing the plate out of the machine. It guarantees excellent feeding by preventing the risk of sliding thanks to the braking system it provides.
Cone rolling device
Induction hardened rolls
Digital readout for side rolls
Fully welded steel (St-52) frame
Separate moveable control panel
Dual bending speeds
All rolls are mounted in spherical roller bearings
Hydraulically opened/closed drop end controlled from control panel
Activation of cone rolling function and position adjustment via buttons on the control panel
CE, ISO9001 – 2015, TSEK ve TURQUM certifications
Variable speed of rotation
Material feeding table
Oil air cooler
Central support
Side supports
Material ejector
Interchangeable top roll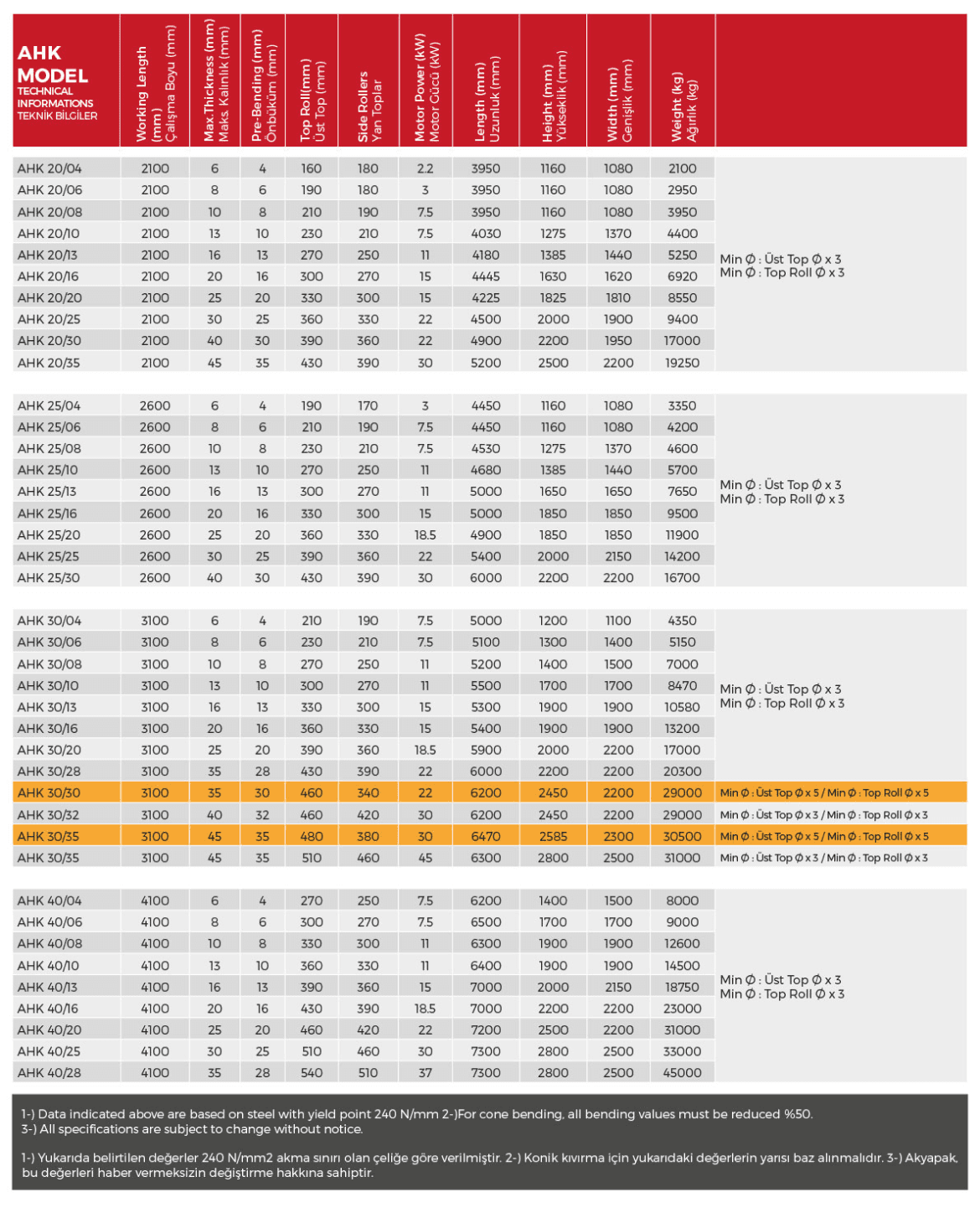 Request Detail
Information
Please fill out the requested information and you will be contacted soon.
Fill out the form to get a free consultation.