AHV
3-Roll Variable Geometry Rolling Machines
Versatile Power
AHV combines power with production flexibility thanks to its variable geometry design. The three rolls in AHV models move independently of each other. The required geometric positions for a wide range of workpieces are ensured thanks to vertical movement of the top roll and independent horizontal motion of the side rolls.
Precise, productive and reliable
The more accurate rolling can be performed for remaining less flat ends by positioning rolls asymmetrical, while the rolls can be positioned symmetrical for rolling at maximum thickness. With those fundamental features, AHV provides the power of versatility in production.
Induction hardened rolls
Fully welded steel (St-52) frame
Linear guides for roll movements
All rolls are mounted in spherical roller bearings
Cone rolling device
Electronic Parallelism
Special braking system
Dual bending speeds
Digital display
Separate moveable control panel
Hydraulically opened/closed drop end controlled from control panel
Activation of cone rolling function and position adjustment via buttons on the control panel
All rolls are driven by hydraulic motor and planetary reducer independently
Variable speed of rotation
Material feeding table
Oil air cooler
Central support
Side supports
Material ejector
Interchangeable top roll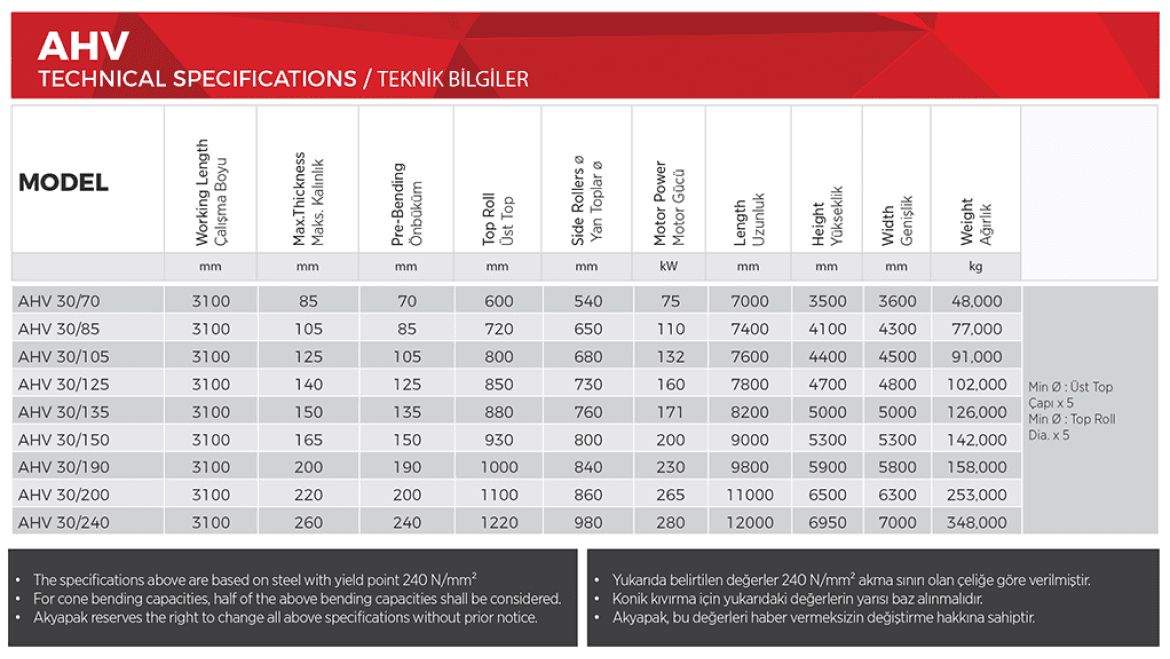 Request Detail
Information
Please fill out the requested information and you will be contacted soon.
Fill out the form to get a free consultation.