AHS-10500
Tank Rolling Machines
Great Solutions For Great Challenges
Akyapak's 4-roll AHS model offers reliable and excellent solutions for precise and challenging rolling applications. It is the most reasonable choice to bend the materials with a plate thickness of 2 mm to 200 mm and with a plate width of 500 mm to 12000 mm.
Prescide, Productive and Reliable
As well as being reliable, AHS increases productivity with its high speed rolling ability and it overcomes the most challenging bends thanks to its ease of use. Since the plate is pinched during rolling, skidding and slipping of materials are prevented. Thus, more reliable rolling operations are performed and more precise results are achieved. In AHS 4-Roll Plate Rolling Machines, one of the side rolls can be used as a squaring roll, thus the plate can be easily and precisely aligned along the roll across the input direction.
Less Flat Ends At a Single Pass
It is possible to achieve a full cylinder at a single pass with AHS 4-Roll Machines, because the material can be pinched with the lower-roll during pre-bending and bending. AHS model allows for precise pinching of the plate between upper and lower rolls, thus the length of flat ends are minimized. Akyapak 4-Roll CNC Rolling Machines having superior features decrease the dependency on an operator and offer more reliable and more productive solutions.
Cone rolling device
Induction hardened rolls
Digital display for side rolls
Fully welded steel (St-52) frame
Separate moveable control panel
Two rolling speeds
Electro-hydraulic calibration
All rolls are mounted in roller spherical roller bearings
Safety equipment around the machine
Central rolls are driven by hydraulic motors and planetary gearboxes
CE, ISO9001 – 2015, TSEK ve TURQUM certifications
Central and side supports
Variable speed of rotation
Material feeding table with various features
Interchangeable top roll
Oil cooling system
Driven side rolls
Automatic material ejection equipment
Automatic loading and unloading system
Deflection compensating system
Motors in variable voltage and frequency
CNC
NC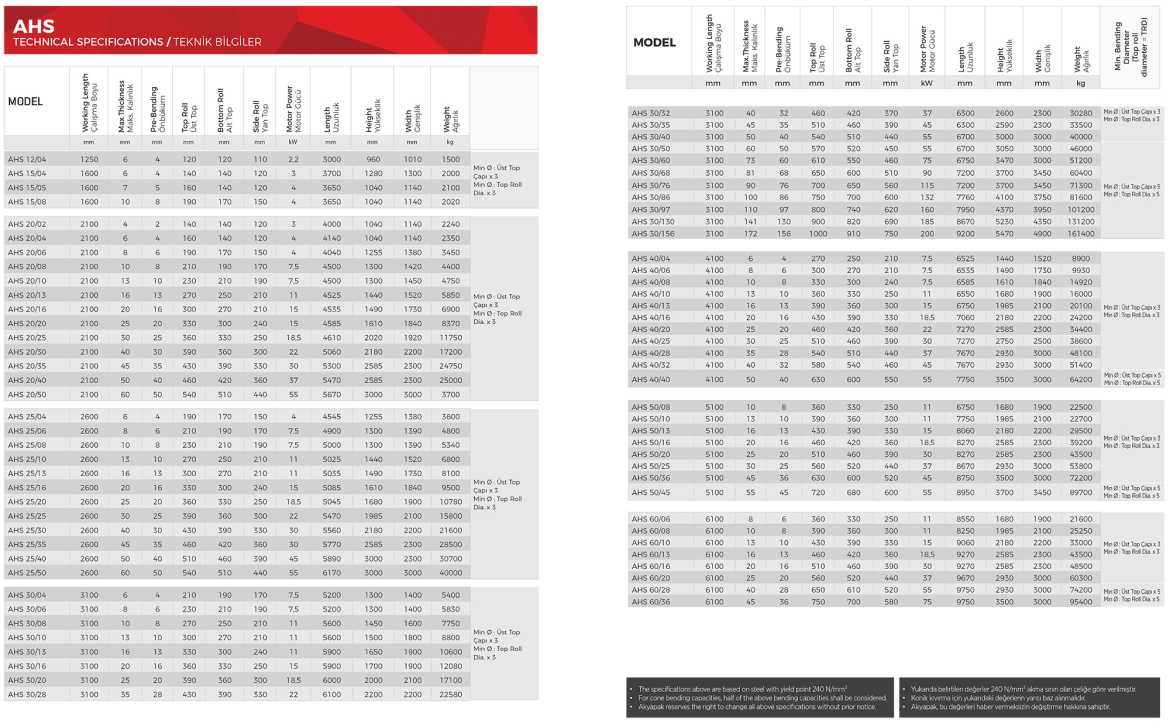 Request Detail
Information
Please fill out the requested information and you will be contacted soon.
Fill out the form to get a free consultation.