Meteor 1200
Single Spindle Drilling Line
METEOR-1200 is developed to drill any kind of profile by rotating the beam for Small-Mid Size Fabricators. The tight tolerance between the holes is not a matter anymore since day by day steel fabricators need more accurate manufacturing and assembling in shorter time. The labor is costly so METEOR-1200 is ready to reduce your labor either for drilling or for on-site assembly.
Ready to drill beams, angles, flat sheets and any suitable geometry. You can also make milling for slots, pockets and any geometry by having state of arts control system.
Fast return on investment
Fast return on investment
Fully CNC control
15 kW spindle motor power
6 Station tool changer
LASER automatic tool measurement & material zero referencing
High positioning tolerance and repeatability
Very robust design
Worldwide spare parts availability
User friendly interface
Fast, accurate and maintenance free
Available in lenghts of 6, 10, 14, 18, 22, 26 meters
Control Panel: SIEMENS
Drilling Unit: 1
Rill Chuck Cone / Spindle Head Tool Shafts hole: BT40, suitable for ATC system
Working length: 12000 mm (2000x6000x8000x18000 OPSİYON)
Profile height: 50 mm - 1200 mm
Profile width: 50 mm - 1200 mm
Support table height: 1200 mm
Length: 17469 mm
Height: 3299 mm
Width: 3721 mm
Weight: 12000 kg
Maximum tool length: 300 mm
Tapping: M12 – M20
Drilling capacity: 10 – 32 mm tool with replaceable carbide head / 40 mm with U-tool
RPM: 3000 rpm
Spindle Power: 11 kW
Total Power: 45 kW
Tools ATC: 6 AD.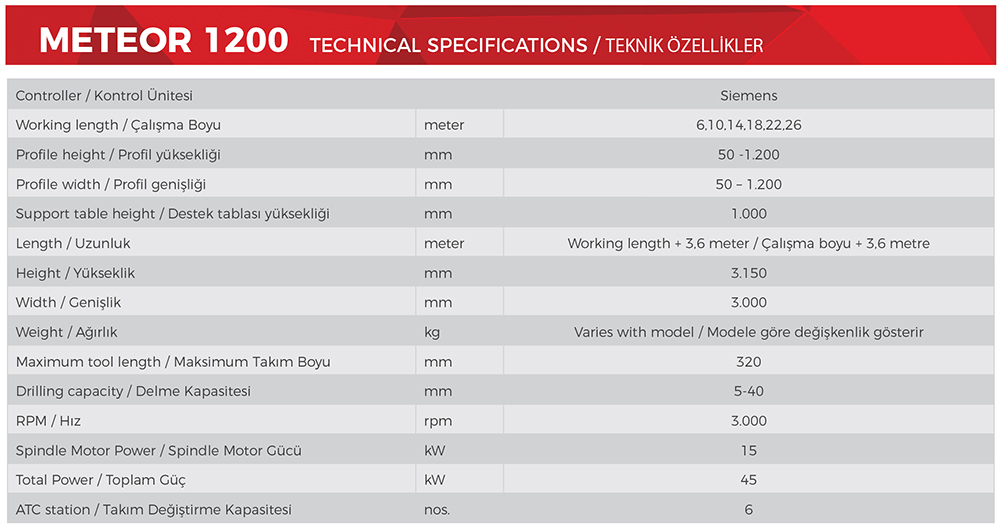 Request Detail
Information
Please fill out the requested information and you will be contacted soon.
Fill out the form to get a free consultation.